Join the Motion Science Mastermind and Improve Your Motion Design Skills
Get the Personalized Feedback, Guidance, and Inspiration Needed to Amplify Your Motion Design
APPLY NOW
UP-LEVEL FASTER
Unlock Your Full Creative Potential
The 8 Week Motion Science Mastermind can provide you with:
Personalized guidance & mentorship from an experienced professional
Increased motivation and accountability in achieving personal and professional goals
A sense of belonging and community with like-minded individuals
Constructive feedback for improved confidence and satisfaction
Reduced feelings of isolation and frustration through support and guidance from experienced peers

Advancement of your motion design skills
Yes, It Really Is Possible to Up-Level Faster!
In this mastermind, you'll learn how to unlock your full creative potential.
APPLY NOW
What's Included In The 8 Week
Motion Science Mastermind...
BENEFIT 1
Weekly Creative Challenges
Each week you'll receive a creative brief assignment to challenge your skills, inspire new ideas and refine your technical knowledge. Benefits of weekly creative challenges include:
Development and refinement of your current skills
Accountability and motivation to continually improve
Fresh perspectives and inspiration to approach your work
Weekly creative challenges will give you an impressive collection of motion design material that will take your new demo reel to the next level.
BENEFIT 2
Live Peer Review & Feedback
Each week the group will peer review your challenge assignment during a live call. Benefits of live peer review calls include:
Real-time feedback on your work to make any necessary adjustments
Opportunities for learning from one another through collaboration and teamwork

I

dentifying areas for improvement

through group discussion and feedback
You'll have the peer feedback and support that you need to push your motion design abilities further, faster.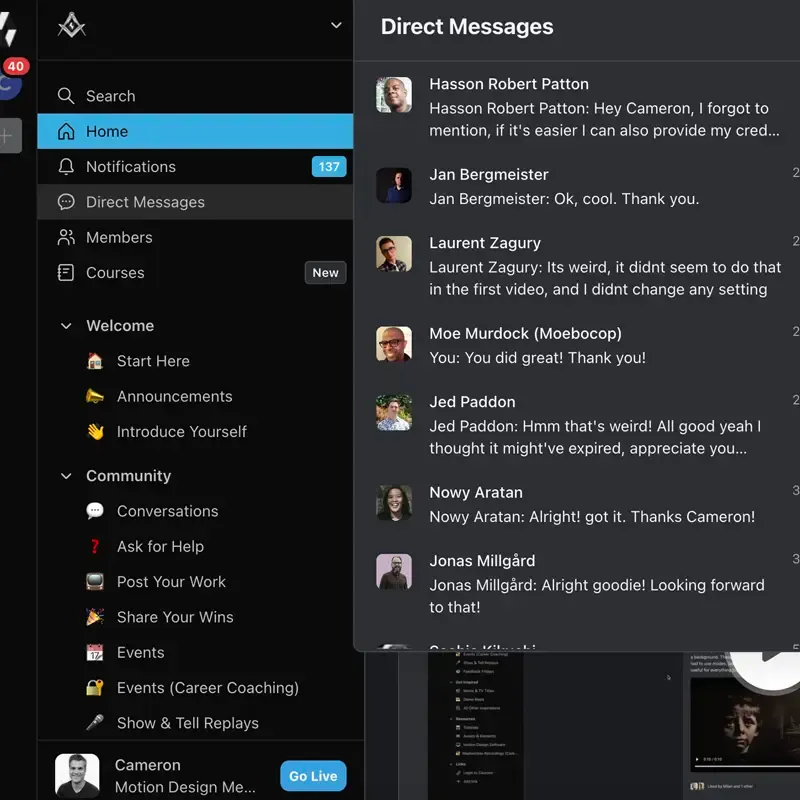 BENEFIT 3
Private Chat Support
This is the perfect space to brainstorm and network with other like-minded motion designers and make genuine connections. Benefits of private chat support include:
Convenient, quick and easy communication with mentors and peers
Easily connect with the other designers and expand your network
Access to a supportive community group
Private chat gives you a fast and easy way to connect with a support group. You'll be able to get the help and advice you need, quickly and easily.
BENEFIT 4
Weekly Office Hours
Each week you will get live personalized support from your mentor, Cameron, to ask questions, share your screen, or seek help with challenges. Benefits of live office hours include:
Personalized attention and feedback of individual needs and concerns
Increased engagement and motivation
Opportunities for peer-to-peer learning and collaboration
Office hours provide an opportunity for you to get personalized help and support from your mentor as you navigate any creative or technical challenges.
This Mastermind is For You if You Seek:
Professional development and growth
Increased motivation and productivity through accountability
Inspiration and fresh perspectives in your motion design work
Network opportunities with like-minded individuals in the industry
YES, I WANT IN!
NICE TO MEET YOU
I'm Cameron Pierron
I am an award-winning Creative Director and Motion Designer with over two decades of experience working with some of the biggest brand names in the world.
My work spans multiple disciplines, from film, broadcast and gaming, to virtual reality, live visuals and realtime graphics.
I have had the opportunity to work on a wide array of projects for clients including 343 Industries, American Express, Baltimore Ravens, BMW, Disney, General Electric, Garmin, Microsoft, MTV, National Geographic, Sony, Toyota, Verizon, and Xbox.
I am highly proficient in Adobe After Effects, Adobe Photoshop, Adobe Illustrator, Adobe Premiere Pro, and Maxon Cinema 4D.
APPLY TODAY!
Motion Science Mastermind
How much time is required each week?
What level of skillset do i need to be at to have success?
What software/3rd party effects do i need?
What if I can't make every live call?